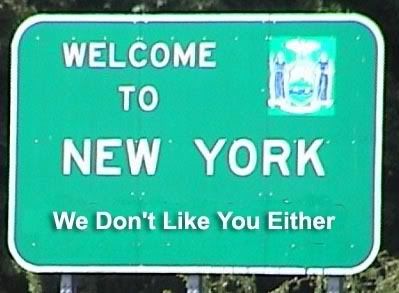 It's no big secret that there's a love-hate relationship between New York City and its tourists. NYC loves the dollars flowing in every year from 39 million American visitors and 9 million foreign tourists, but hates having to put up with insensitive and clueless tourists. So here's some tips for NYC visitors which will help you blend in. Oh, and if you're looking for the opposite, here's a list of things to do in New York.
1. Walking -  You walk fast, and you expect the person in front to keep walking. In a straight line. You can't just simply stop walking in the middle of the sidewalk and start taking pictures. You want to stop walking, then you move to the right and get your bags out of the way. Secondly, if you're in a group, don't walk in a row holding hands and block the people behind. Jaywalking is considered normal.
2.  Talking – Again, time is money. People will respond normally enough if you have a question. But you have to make it quick to avoid a brush-off. This applies especially when you're ordering food. Think about what you want beforehand. If you start asking questions at the counter, you're dead meat.
3. Eye Contact – No one makes eye contact, or smiles at strangers (exception for attracting the oppposite sex). If you want to blend in, never make eye contact, smile without reason, or start a conversation unless necessary.
4. Subway etiquette – I could write 13 rules just for the subway. But in a nutshell, observe rule No.3 without exception, and if there's a crowd, keep the doors clear – stand left or right, wait for the people getting off to do so, and don't push your way in using elbows. Once inside, don't block the doors for people trying to get out. And don't stand in the middle of the subway exits – People go in and out real fast with their heads down, and someone is likely to knock you down.
5. Tipping – 15 to 20% is the norm when you're tipping. Especially for the taxis. Believe me, you don't want to tick off an NYC cabbie by short-charging him on tips. And if you leave coins at a restaurant, then don't go back. Ever.
6. Culture Shock – Some of you might be shocked by the colorful nature of some people you encounter - as in drag outfits and/or tasteless, bizzare dressing styles. Don't be. Nobody cares, except you. On a related note, this isn't California, so please leave your shorts and sun-glasses at home. See, the way this works is that dressing bizzare is acceptable, but walking around in shorts with sun-glasses with NYC t-shirts marks you as a tourist.
7. Food - Remember the thing about ordering fast in rule No.2 and tipping in rule No.5, and get a regular coffee (with cream and sugar), or a beer. No tea. You get fries on the side with most everything, so you don't need to order it seperately.
8. Tourism – There's no need to go visit the Statue of Liberty or take a Circle Line cruise. You can get a pretty good view from the Staten Island ferry, and its free to boot. Other than the crowd and the neon signs, Times Square is pretty much a tourist trap. Stay away if possible. And Museums have pay-what-you-wish days. Only tourists land up on the other days to pay the full admission price.
9. Local transport – Avoid cabs and driving your own car as much as possible. The subway works just fine, and you can get MTA NYC Transit Metrocards which are valid for both the subway and the buses. Depending on the duration of your stay, you can get anything from a 7-day unlimited card to a 1-day fun pass.
10. Shopping – Fifth Ave is a strict no-no for shopaholics, unless you have Macy's coupons. You want the exact same designer wear and branded accessories and stuff at 40 to 80% discounts over retail prices, you go to Century21 or Gabay's or Syms.
11. Homeless/Oddballs – You'll see a lot of them, if you walk around a bit. They might even try to talk to you or make gestures, and if you make eye contact, or act like you're interested, they'll try to follow you. Just ignore them and move on. Same thing applies for flyer distributors. Its not rude to ignore kids or old people handing out flyers.
12. Ground Zero – Touchy subject. If you don't know how to get there, better not ask a stranger on the street. If you must ask, then walk into a store or a restaurant, buy something, and then ask the staff.
13. Umbrella etiquette – First, never walk around without an umbrella. If you're using it, you need to bob it up and down so you don't knock out someone's eye, or crash into another umbrella. Its a fine art as to who raises the umbrella and who weaves left or right a bit, but you'll get the hang of it after one of two attempts.
Photo credit lynza.