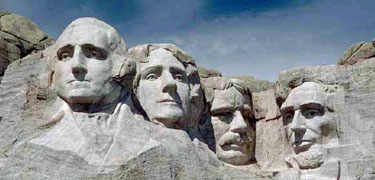 America. Nothing says it more than a visit to a historical landmark. And what better way to ease the kids back into school than with a late-summer trip somewhere that is fun as well as educational!
In the midwest, there are several great options from which to choose. The first landmark that most people probably think of in the US's midwest region is Mount Rushmore. From the Mt. Rushmore government site:
"This epic sculpture features the faces of four exalted American presidents: George Washington, Thomas Jefferson, Theodore Roosevelt, and Abraham Lincoln. South Dakota's Black Hills provide the backdrop for Mount Rushmore, the world's greatest mountain carving. These 60-foot high faces, 500 feet up, look out over a setting of pine, spruce, birch, and aspen in the clear western air."
Mt. Rushmore offers plenty of family fun, including sculpture workshops, guided tours, and opportunities for volunteering, youth programs, and internships. They also have great things for kids to do, so be sure to get them involved!
People probably also think of St. Louis and the Gateway Arch. My family and I were there several months ago and it is truly something to behold. From the Gateway Arch's web site, linked above:
"The Gateway Arch reflects St. Louis' role in the Westward Expansion of the United States during the nineteenth century. The park is a memorial to Thomas Jefferson's role in opening the West, to the pioneers who helped shape its history, and to Dred Scott who sued for his freedom in the Old Courthouse."
Once there, one thing that everyone….except me….wants to do it take the tram to the top of the arch. While the more adventurous were doing that, I watched Monument to the Dream, the movie that uses live footage of the building of the arch to tell the story of how the idea became a reality. The monument also houses the Museum of Westward Expansion, and nearby you can take a ride down the Mississippi on a riverboat and visit the Historic Courthouse.
Whether you visit one of these landmarks or opt for another, be sure to enjoy what is left of summer here in the Midwest. It won't be long before we'll be picking apples and pumpkins and planning our Halloween parties, so take the family and get away for one last weekend. Be safe, have fun, and be sure to tell George Washington I said hello.